PWQ Series
Piano+Woodwind Quintet Series
Piano,Flute,Oboe,Clarinet,Horn and bassoon
Songs from Japan Molto Cantabile ma senza vocefor Piano & Wind Quintet
~We all sing without Words!!~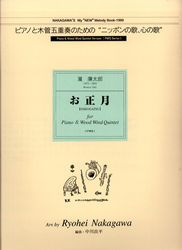 About this PWQ Series
 To those who are nor familiar with our songs. It was obvious where this little boy was born and grew up. When World War II was over, he was in 4th grade. So this book turned out to be a collection of Japanese melodys including traditional folk songs and those composed after 1868 under the influence of Western music(the functional harmony system), though almost all the melodys were still very pentatonic. This is that little boy's CANTILENAM EANDEM CANIS.
Ryohei NAKAGAWA
PWQ-1 Oshogatsu(Traditional,children's) ¥1800
PWQ-2 Aogueba Tohtoshi ¥1800
PWQ-3 Memories of the summer ¥1800
PWQ-4 Gondola-no Uta ¥2200
PWQ-5 Yuuyake Koyake(Sunset) ¥2400
PWQ-6 Hamabe-no-Uta ¥2400
PWQ-7  6 Tradirional Japanese Melodys ¥2800
PWQ-8 Kono-Michi ¥1800
PWQ-9 Furusato ¥1800
PWQ10 Aka-tonbo (Tiny red dragons) ¥1800
PWQ11 Karatachi-no Hana(Trifoliate orange blossom) ¥1800
PWQ12 Haru-no-Ogawa(Childeren's) ¥1800
PWQ13 Yashi-no-Mi ¥1800
PWQ14 Takibi(Small bonfire) ¥1800
PWQ15 Three Moons ¥2200
PWQ16 Rain,rain and rain ¥2200
PWQ17 3 Spring Songs ¥2200
PWQ18 Habu-no-Minato(Lonsoe port) ¥2500
PWQ19 Seyklabeh ¥1800
PWQ20 Lingo-Oiwakeh ¥2500
---

PAYMENT THROUGH PAYPAL
1. First, email your name, address, product number of ordered item(s), and quantity to
order@pipers.co.jp
2. We will send you the total price of your order, including the shipping charge. Please make payment through Pay-Pal to our Pay-Pal address at
shop@pipers.co.jp
3. As soon as we have confirmed your payment, we will ship your order and let you know by email that we have shipped it.
*In order to make your payment, you must first register with Pay-Pal. Please view the website for Pay-Pal www.paypal.com/ for instructions on how to register and make payments.
Thank you.
---
Sugihara Shoten Co.,INC.
(Pipers Magazine)
Daini Arakawa Bldg.2-1-1 Kyobashi, Chuo-ku, Tokyo
104-0031 JAPAN
Phone:+81-3-5205-3666 / FAX:+81-3-5205-3667
Email:order@pipers.co.jp